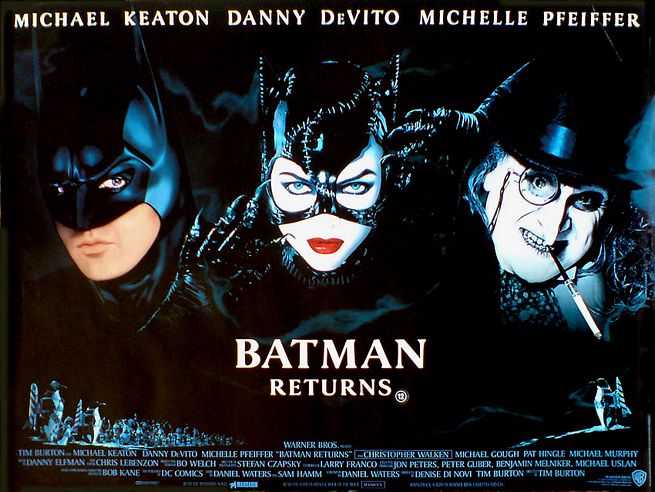 It was a simpler time. It was a time when good always triumphed over evil. The villains still lived in the sewers, and Tim Burton was still making good movies. In this sequel, it's Christmas in Burtonland, I mean Gotham City and

megalomaniac businessman Max Shreck (Walken) starts a plot against Batman (Keaton) and his beloved city. He's joined by Penguin (Devito), a deformed and rather deranged man abandoned at birth by respectable parents. Penguin, backed by hoodlums and a menacing gang of penguins (yep), decides to run for mayor. The plot is further complicated by Selena (Pfeiffer), a wronged secretary who transforms into Catwoman, a villain with mixed motives.
The film achieves everything it was aiming for (one of those goals was selling action figures) and would be the last time we would see a good DC Comic book adaptation till Batman Begins in 2005. The film has some standard commentary on important issues like transformation, violence and the dangers of pollution yet the film is strongest in its visual aspects. The film's beautiful opening sequence really encapsulates everything that works about the movie. The Penguin's parents take him into a city park and dump their new born baby into the city's sewers. Baby Devito drifts through the dark underworld of the city as Danny Elfman's score mixes with a fantasy montage of a heavy Christmas snowfall blanketing the city. The makeup and costumes of every character are ridiculously excessive, but in the best way. All the actors are having a blast and Danny Devito gives a performance that haunted my entire childhood.
Yes, Michael Keaton is in some form of mild comatose in this movie unless he's making out with Michelle Pfeiffer. Yes, it's a bit goofy when compared to the heightened realism we get in the latest Batman franchise. But, it's still a classic director on the top of his game mixing black humor and fantasy with one of the most beloved superheroes of our time.