Since everyone is going to see this film, I figured I'd do a completely useless post about why you should see this movie. I needed to review this movie in chunks, or different levels, in order to fully process it. It's not without its flaws, but it's a shining light in the cold and dank summer blockbusters this year. Also, I hope this post finds its way to
just one
person who is on the fence about seeing this movie and pushes them into the theater.
But first, the poll results...
Question: Inception will be...?
Results:
From a critical standpoint I'd say the movie falls about where the polls predicted it would. According to Rotten Tomatoes The Dark Knight (93%), Memento (93%), Insomnia (92%) and Batman Begins (85%) all have higher ratings than Inception (84%). Of course that's just how universally accepted the films are and not a perfect measuring tool.
And now for the good stuff. *This is spoiler free, so don't worry.*
1. It Should (Finally) Make Christopher Nolan a Household Name:
The Dark Knight should have done this but even the trailer for Inception called him "The man who brought you The Dark Knight". Nolan isn't a Spielberg or Scorsese yet, but he officially deserves to be one of the few directors known by the general public. When a famous director dies, another is born. M. Night Shamylan career is very dead and I think there's room in this world's heart for a top-notch director whose name alone can get butts in the seats.
2. Works as a Sci-Fi Film:
I was lucky enough to go into this movie completely cold. I knew Dicaprio was in it and that some big buildings shifted around but that's it. I had no clue this was a Sci-Fi film when I went in and just the idea of Nolan taking on this genre gets me giggly. Lucid and shared dreaming, zero gravity, flashbacks, mazes and virtual reality? It's my own cinematic wet (lucid) dream. In a time where most hard Sci-Fi is spent on time travel or "genetics gone wrong" it's nice to see something fresh like "dream travel". You can tell this film's details have been boiling in Nolan's head for the last ten years.
Like all great Sci-Fi it even ends in the greatest way a story can. It implants words into the viewer's minds. Four little words that are responsible for my love of literature or any form of storytelling. That beautiful phrase that I never get tired of…
"…and then what happened?"
3. Works as a Heist Film:
I've never seen a heist film where they break into somewhere in order to implant something as opposed to stealing something. I don't know if that disqualifies this movie from the genre or if it makes it one of the best heist films of all time. I'm not going to get hung up on labels. Like Ocean's Eleven, the film has an amazing supporting cast, fun but intelligent writing and a kick-ass third act. Of course, it has much more to offer than just that but for those who simply like to see a brilliant plan unfold; it's worth your money for that alone.
4. The Most Cerebral Summer Blockbuster I've Ever Seen:
It's as big as The Dark Knight but as complex as Memento. It's ballsy to make a film that is as complicated as this and call it a popcorn flick. I love that Nolan respect his audience, gives us something intricate and we are able to embrace the challenge.
*However I do have to mention that the full on "cerebral-ness" of this movie is a bit overwhelming. The film's greatest weakness is it's detachment from its characters. DiCaprio's character is the only one that undergoes a significant arch (an arch weirdly similar to the one he goes through in Shutter Island) and its full emotional affect didn't really intrigue me at all by the end.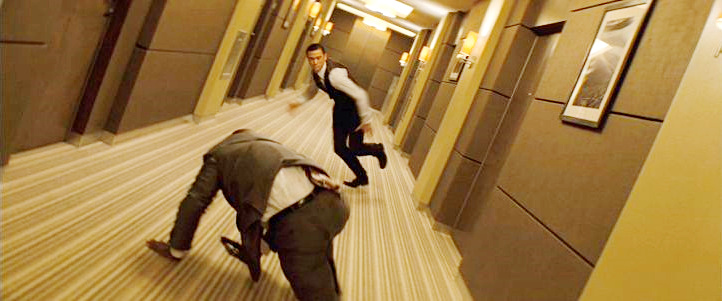 5. The Visual:
It doesn't have the gritty noir look that his other films do, but it's the most visually intriguing things he's ever created. Certain zero gravity and dream sequences took me places I'd never gone in a film before. The constant cuts between time and space juxtaposed with Zimmer's music creates an almost Kubrick experience.
6. The Narrative:
Makes The Matrix look like Sesame Street. The film really makes you question reality when you walk out of the theater. There is tons of exposition thrown at you in the first two acts but if you can figure it out and keep interested into the third act you'll be taken to one of craziest psychological roller coasters film has to offer. Plus, I can't really complain about all the new rules and explanation sequences because I didn't comprehend the entire film. Of course you don't know how much you missed till you see it again, but if it's anything like Memento there's a whole different film awaiting me for my second viewing.
7. Hans Zimmer Score:
If you've seen the film the track you're looking for is called "Time". It's the track played throughout the climax of the "Van Falling" sequence. It's another top notch score by one of the industry's best composers.
8. The Supporting Cast:
Joseph Gordon Levitt, Ellen Page, Tom Hardy (knocks it out of the fucking ball-park!), Ken Watanabe, Cillian Murphy, Tom Berenger, Marion Cotillard, Pete Postlethwaite and of course Michael Caine. Nuff said…
9. The Possibility of a Sequel:
This movie is great and it's about to make a whole lot of bank. It's very possible. It definitely leaves it open for a sequel and god knows the public would enjoy one. However, it's not really necessary.
Possibly titles; Inception: Reloaded? Extraction? IInception? A "Gordon Levvitt-Paige" spinoff romance film? Am I joking with that last one?
10. The
Best Mind-Fuck Money Can Buy.